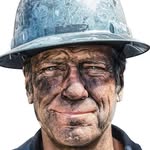 Mike ROWE
TV Presenter
Distribución de la comunidad
Localización del influencer
Los Angeles, Etats-Unis
Profesión(es) del influencer
TV Presenter
Biografias
Mike Rowe
The official YouTube channel for me, Mike Rowe (the real one), host of Discovery Channel's Dirty Jobs.
TheRealMikeRowe
A place to set the record straight, have a few laughs, and from time to time, spill my guts.
mikeroweworks
I'm only dirty on the outside.
Credibilidad de la audiencia
Excelente calidad de seguidores
La calidad de la audiencia es la proporción de seguidores que se considera "no falsa". El número de publicaciones, la proporción de seguidores / seguidores, la imagen de perfil y otros indicadores se consideran índices de "seguidores falsos".
Evolución de la comunidad
Edad y género de la audiencia
Ubicación de la audiencia
Intereses de la audiencia