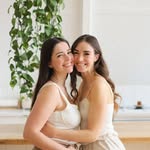 allieandsam
Creator
Distribución de la comunidad
Localización del influencer
, Canada
Profesión(es) del influencer
Creator, Adventurer
Biografias
allieandsam
▫️Wives + our fur babies 🐾💍 ▫️Lovers of life, travel + each other ✈️ ▫️Doing IVF 👶🏻 ▫️Say hi over on YouTube + Tiktok 👋🏽 💌 : collabs@aandssocial.com
Allie & Sam
We're Allie and Sam! Follow along on our journey to motherhood as we have our first little one! We're a married femme lesbian couple that calls Halifax, Nova Scotia home. You can either find us at home snuggling our three fur babies, Ferguson, Shelby, Elsie and Lily, or traveling around the world. We want to share our adventures with you, and show you how normal LGBT life can be! Make sure you're subscribed so you never miss a video! New videos every Tuesday and Thursday at 3pm Atlantic Time...
allieandsam
No, we're not sisters... Trying to become mamas! Also on Insta & YT 📸 she/her
Credibilidad de la audiencia
Excelente calidad de seguidores
La calidad de la audiencia es la proporción de seguidores que se considera "no falsa". El número de publicaciones, la proporción de seguidores / seguidores, la imagen de perfil y otros indicadores se consideran índices de "seguidores falsos".
Evolución de la comunidad
Edad y género de la audiencia
Ubicación de la audiencia
Intereses de la audiencia