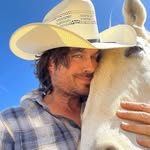 Ian Somerhalder
Actor (Cinema)
Distribución de la comunidad
Profesión(es) del influencer
Actor (Cinema)
Biografias
iansomerhalder
I make Bourbon. Proud cofounder of @brothersbondbourbon
_mrs.somerhalders_
| perfection is his name | tvd😻 --------------------------------------- Imagine the blue button is Ian's butt - you know you wanna touch it🔥😏
iansomerhalderofficial
Philanthropist/Entrepreneur/Optimist
iansomerhalder
Damon&Stefan have a bourbon.We have worked so hard on this.If you are 21 yrs old in the USA or legal drinking age go to our website 👇so we can share with you.
Credibilidad de la audiencia
Excelente calidad de seguidores
La calidad de la audiencia es la proporción de seguidores que se considera "no falsa". El número de publicaciones, la proporción de seguidores / seguidores, la imagen de perfil y otros indicadores se consideran índices de "seguidores falsos".
Evolución de la comunidad
Edad y género de la audiencia
Ubicación de la audiencia
Intereses de la audiencia