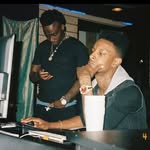 21 Savage
Singer
Distribución de la comunidad
Localización del influencer
Los Angeles, Etats-Unis
Profesión(es) del influencer
Singer
Biografias
21savage
Under appreciated
21 Savage
21 Savage's official channel! Subscribe for all music videos, behind the scenes and tour videos from 21 as they'll drop here first. Hailing from East Atlanta, GA, 21 gained attention with his 2015 debut project 'The Slaughter Tape,' which he followed up with the 'Free Guwop' EP and 'Slaughter King.' Most recently 21 released 'Savage Mode,' a collaborative album with multi-platinum producer Metro Boomin. Savage Mode is a focused dive into the moody rugged life of 21 Savage and the world around h...
Credibilidad de la audiencia
Excelente calidad de seguidores
La calidad de la audiencia es la proporción de seguidores que se considera "no falsa". El número de publicaciones, la proporción de seguidores / seguidores, la imagen de perfil y otros indicadores se consideran índices de "seguidores falsos".
Evolución de la comunidad
Edad y género de la audiencia
Ubicación de la audiencia
Intereses de la audiencia