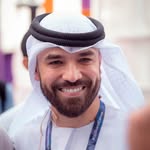 Khalid Al Ameri
Videomaker
Distribución de la comunidad
Localización del influencer
Dubai, Emirats Arabes Unis
Profesión(es) del influencer
Videomaker
Idioma(s) del influencer
2
[Lexique::Key "other" not found in file "es/languages"]
Biografias
khalidalameri
🎥 I make videos about life in the Middle East and how hard it is being @salamamohamed's husband. 👨‍🎓@Stanford '14 📍Dubai 📧 khalid@khalidalameri.com
khalidalameri
Hi! My name is Khalid, I make videos about life in the Middle East, and comedy skits with my wife...
KhalidAlAmeri
I make videos. MBA @StanfordGSB. ?
Credibilidad de la audiencia
Excelente calidad de seguidores
La calidad de la audiencia es la proporción de seguidores que se considera "no falsa". El número de publicaciones, la proporción de seguidores / seguidores, la imagen de perfil y otros indicadores se consideran índices de "seguidores falsos".
Evolución de la comunidad
Edad y género de la audiencia
Ubicación de la audiencia
Intereses de la audiencia