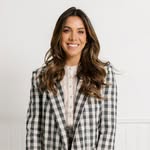 thefoodmedic
Doctor
Influencer location
London, United Kingdom
Influencer activity
Doctor
Biographies
thefoodmedic
🏥Medical Doctor 🥑 Nutritionist (ANutr) 📚 Author of The Food Medic Books 🎙 The Food Medic Podcast 🖥 www.thefoodmedic.co.uk
Hazel Wallace
The Food Medic was started by Doctor and Personal trainer Dr.Hazel Wallace. Here you will find informative videos, recipes, workouts and some behind the scenes of Hazels life. Remember: The information provided here is not to replace the advice your doctor or any other health care professional. By performing any fitness exercises, you are performing them at your own risk. You should consult your GP or other relevant healthcare professional before starting this or any other fitness program to d...
thefoodmedic
We are an educational platform and media group aimed at bridging the gap between traditional medical advice and the latest developments in...
Thefoodmedic
Doctor, nutritionist (ANutR), author and founder of @thefoodmedic.
Audience's credibility
Excellent score
The audience quality score corresponds to the part of the followers considered as "not fake". Indicators of "fake followers" are: number of posts, the ratio follower/following, profile picture and other indicators
Audience's age and gender