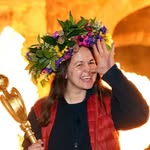 Giovanna Fletcher
Radio Host
Influencer activity
Radio Host
Biographies
mrsgifletcher
🌸Sunday Times no.1 bestselling author 🌷Founder of @happymumhappybaby ❤️MUM & WIFE 👑 of the castle 👀Patron for @coppafeelpeople
Giovanna Fletcher
Hello! My name is Giovanna, known to many simply as Gi. My aim across all my social is to create a fun and positive little place on the Internet for people to come and feel uplifted. Subscribe: bit.ly/2dvWjTy Instagram: @MrsGiFletcher Twitter: @MrsGiFletcher Facebook: www.facebook.com/MrsGiFletcher Books: https://www.giovannafletcher.com/books Instagram: @HappyMumHappyBaby Facebook: https://www.facebook.com/HappyMumHappyBaby Facebook Group: https://www.facebook.com/groups/happymumhappyba...
mrsgifletcher
❤️ MUM & WIFE 🌸 Sunday Times no.1 bestselling author 🌷 Happy Mum Happy Baby
MrsGiFletcher
Mum to Buzz, Buddy and Max. Wife to Tom. Bestselling author and podcast host.
MrsGiFletcher
Sunday Times No.1 bestselling Author and podcast host. Mum to Buzz, Buddy & Max. Wife to @TomFletcher. Press gaby@dundascommunications.com
Audience's credibility
Excellent score
The audience quality score corresponds to the part of the followers considered as "not fake". Indicators of "fake followers" are: number of posts, the ratio follower/following, profile picture and other indicators
Audience's age and gender